Flight Simulator X (FSX) Steam Edition Optimized Airbus A380 Pack
Posted On :
Nov 01, 2020
Last Update :
Nov 03, 2020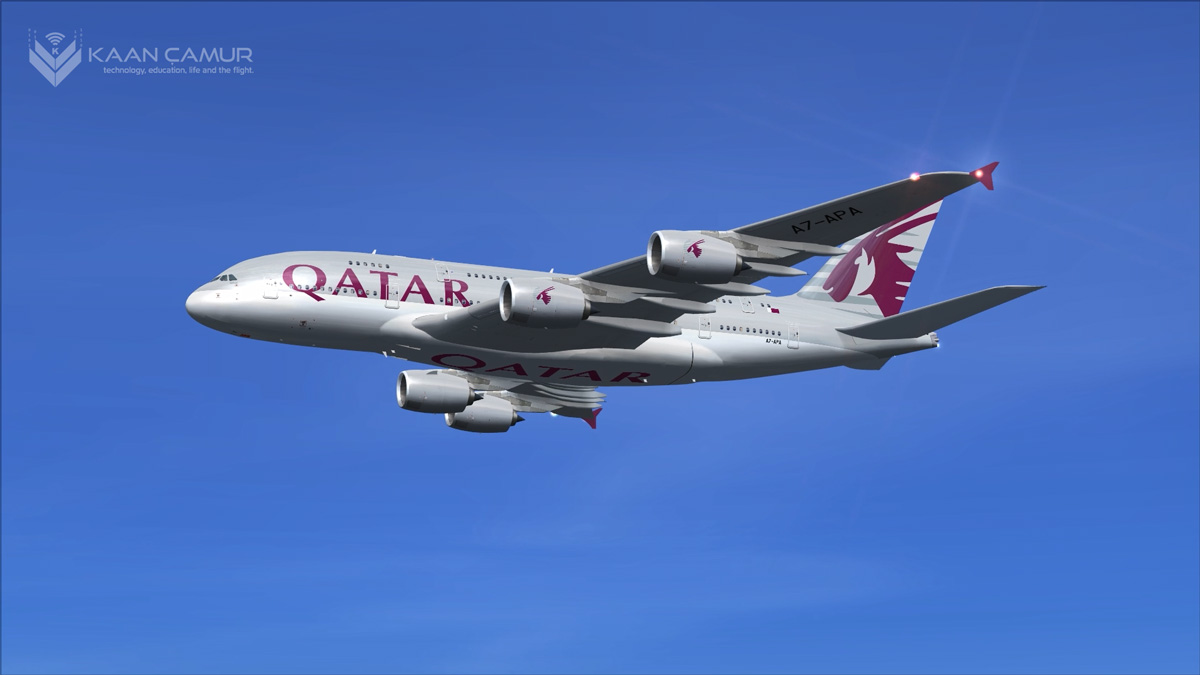 With its design, power and roar of its engines, Airbus A380 is one of my favorite airliners in the game and also in real life. Flying it in the Microsoft Flight Simulator X (FSX) is an amazing pleasure surely.
There are tons of free add-on aircrafts and textures for FSX on the internet. I didn't try them all, just downloaded the ones i interested and liked. Those are mostly Boeing 787 Dreamliner and Airbus A380 aircrafts and texture packs.
Unfortunately, many of the materials for these two aircrafts i downloaded from internet contains lots of errors and bugs. Thanks to myself, i worked on them one by one and fixed them all. As result, i created ready to fly stable and optimized fleets.
First of all, i'd like to thank to the creators (authors) of these aircraft models and textures. All of these materials are very beautiful and hard-worked works. Thanks to all these people again.
Although these materials are nice and free to use, lots of them contain some minor and major bugs. At least the ones i found on the internet (from library.avsim.net if i remember correct). For example, night textures of some planes had not passenger lights, reverse thrust were not working, could not making a stable fly because of aerodynamic values were not configured well etc.. These were the problems i faced mostly in 787 series, i'll talk about them in my another article. Let's keep going on A380s.
The first problem i faced in A380 model i downloaded was the cockpit. The cockpit was certainly not a real A380 cockpit; it was completely an A320 cockpit. In short, whoever prepared this model has used the default A320 cockpit for A380. It was the same web site above i guess, i searched for a real A380 cockpit this time. The another one i found was not an A320 cockpit but also was not a real A380 cockpit. It looks like a modified A320 to make it look like an A380 cockpit but it was not enough for me, i did not like it because of it has some missing textures at some places and it was definitely not look like an A380 cockpit.
Finally, i found a real A380 (complete aircraft with real cockpit or only cockpit, i don't remember well because of i searched on lots of websites) with correct cockpit. But this time, another problem has occured. The FPS (Frame Per Second) was dramatically dropped to about 10-15 and it was not acceptable for me to play. Later then, i realized that this was a paid Project Airbus model created for Prepar3D simulator which published by Lockheed Martin, the company that bought the source codes of FSX and developed it an improved version. The people who shared this model on the internet were saying that it'll work in FSX too, but it seems they missed out that FPS problem i mentioned above.
Anyway, when i checking the aircraft, i noticed that FPS was dropping more in the cockpit view. Then i asked myself, might it be? I quickly replaced the previous, fake A380 cockpit with this one and ta taaa, FPS was increased to normal again. So, as you understand, problem was the cockpit itself, probably because of its high resolution with heavy file size.
The FPS was became normal, but i still did not have a complete A380. Then i searched for the real A380 cockpit on a few websites and finally found a perfect complete model, not the cockpit itself. When i noticed that there were no FPS problem or anything else, i tried to apply an outer texture i downloaded before to aircraft to see whether it will work on this model or not. After i saw that the texture was applied successfully, i downloaded the outer textures of 22 airways i found on the internet and tested them all one by one. At last, my Airbus A380 fleet was almost ready. The only thing i did not like on this model was the some camera angles. They were placed on unnecessary points of aircraft and not providing meaning views. Therefore, i removed them from the aircraft.cfg file (which contains all aircraft configurations include camera angles and aerodynamic values) and created my own realistic camera angles like left-right engine views, left-right wing-top engine views, left-right wing views, back seat cockpit view etc. I also found the gauge notification sounds "one thousand", "five hundred", "minimum", "retard-retard" on the internet, downloaded and optimized them (removed background noise etc.) and integrated with the simulator. As you might know, airliners in the Flight Simulator X have not these gauge notification sounds. I just saw this feature in P3D, tried to integrate with FSX and it's worked.
With this final edit and tests, i completed to create a stable and successfull A380 fleet.
The airways you'll find in the fleet are;
Lufthansa (Old)
Lufthansa (New)
Alitalia
Air France
Etihad
British
Qatar
Emirates
Emirates v2
Emirates Wild Life
A380 First Flight
Avianca
DHL
FedEx
Iberia
Qantas
UPS
Virgin Atlantic
Singapore
Thai
All Nippon
Malaysia
You can download the fleet from here. Just unpack (unzip) the folder into the Airplanes folder that inside the SimObjects folder which you can find in root directory of the simulator. (C:\Program Files (x86)\Steam\steamapps\common\FSX\SimObjects\Airplanes)
You can find some in-game images of fleet and also my full flight video below. If you have questions or anything to say, just write me in the comments. Have nice flights.