Flight Simulator X - Most Stable Settings and Gamepad Controls
Posted On :
Aug 31, 2020
Last Update :
Nov 17, 2020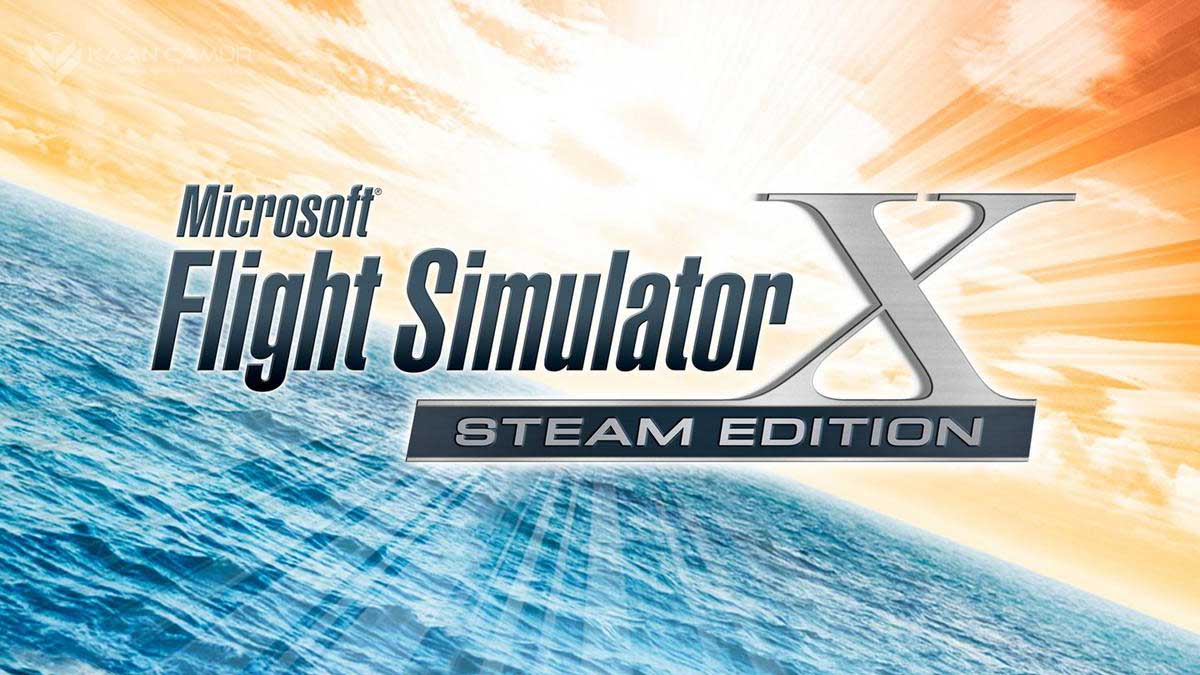 Microsoft Flight Simulator X (FSX) is one of the greatest flight simulation softwares developed so far which has been released in 2006 as an improved version of Flight Simulator 2004 and dominated the flight simulation world with another good simulator X-Plane. The ultimate reason which made FSX very successfull is its being fairly "real" with its provided features like real world satellite data, flying dynamics, flight terminology, and an amazing user experience.
Although i knew the FSX since Flight Simulator 2004, i could able to play it as first time at last year yet and it has become a great passion for me. One of the reasons to build my website is introduce this amazing experience to everyone who interested or not, make them try at least once and feel this joy.
If you're one of the people who tried to run Microsoft Flight Simulator 2020 and failed to play because of insufficent hardware power, and also not ever played previous game (FSX) yet, believe me that FSX will give you same (maybe more) joy. Of course they can not be compared based on graphics quality, but i'm pretty sure that you'll consider FSX's graphics are fairly good, especially when you at skies.
Ok let's start with purchasing step. You can buy the game from Steam only for 5$. For those who don't know what is Steam, let me explain shortly; Steam is the world's greatest online marketplace for softwares (especially games) and a digital gaming platform. You can buy games or gift them to your friends, install them by only one click without struggle complex technical details, communicate with other Steam users while playing games. You can also have new friends and play the same games you owned together. With these properties, Steam can also be considered as a social platform. Similar to Steam, there are some other online marketplaces like Origin, Microsoft Store and Uplay.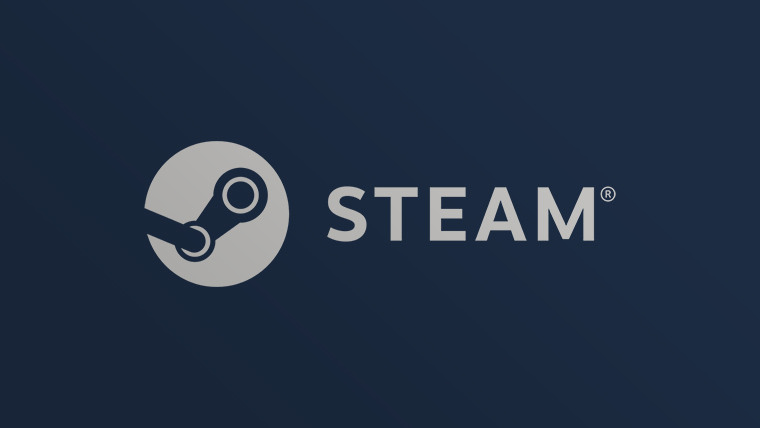 Steam games always been stored in folders called "Steam Library". Hence Steam will require from you where Steam Library folder will be created on hard disk when you buy a game. There can be multiple Steam Library folders and you can install each game you purchased to anyone of them.
You can download Steam from its own website as free. If you experience any trouble with Steam itself or game installation processes, write me without hesitation, i'll try to help.
All right, i assume that you purchased and installed the Microsoft Flight Simulator X. Let's begin with clicking to "Settings" at the left side of opened home screen after you run the game.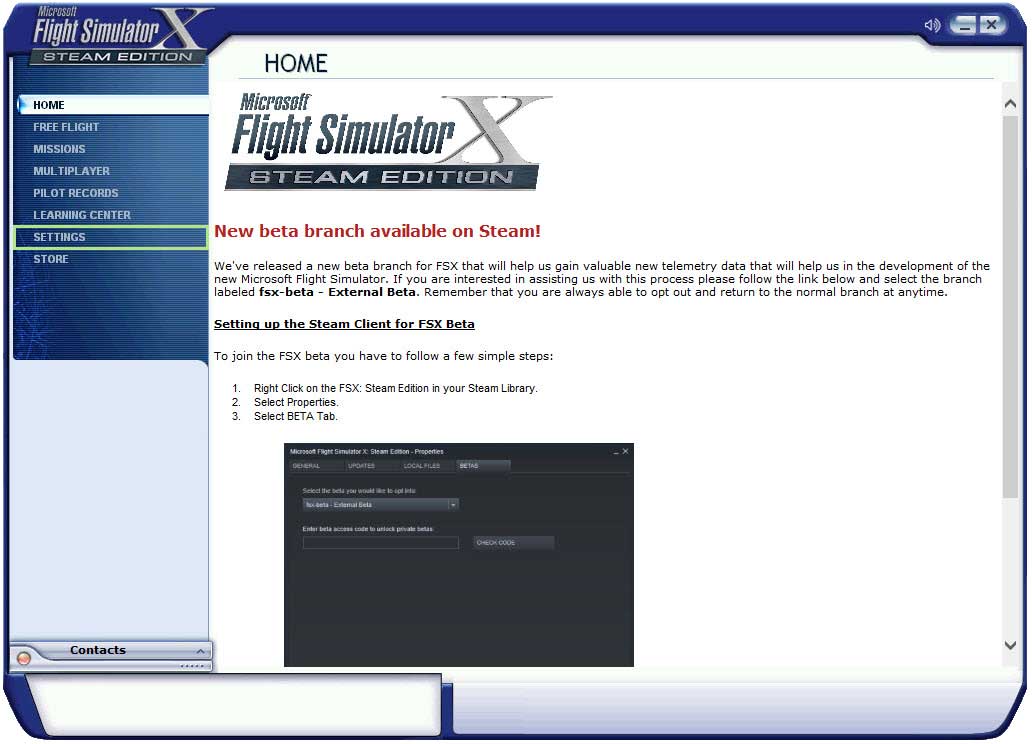 Display settings on this screen provides a short way to make related settings faster by sliding the bars into the right, but it's better to we make all settings step by step by clicking "Customize" button below to ensure we made best settings.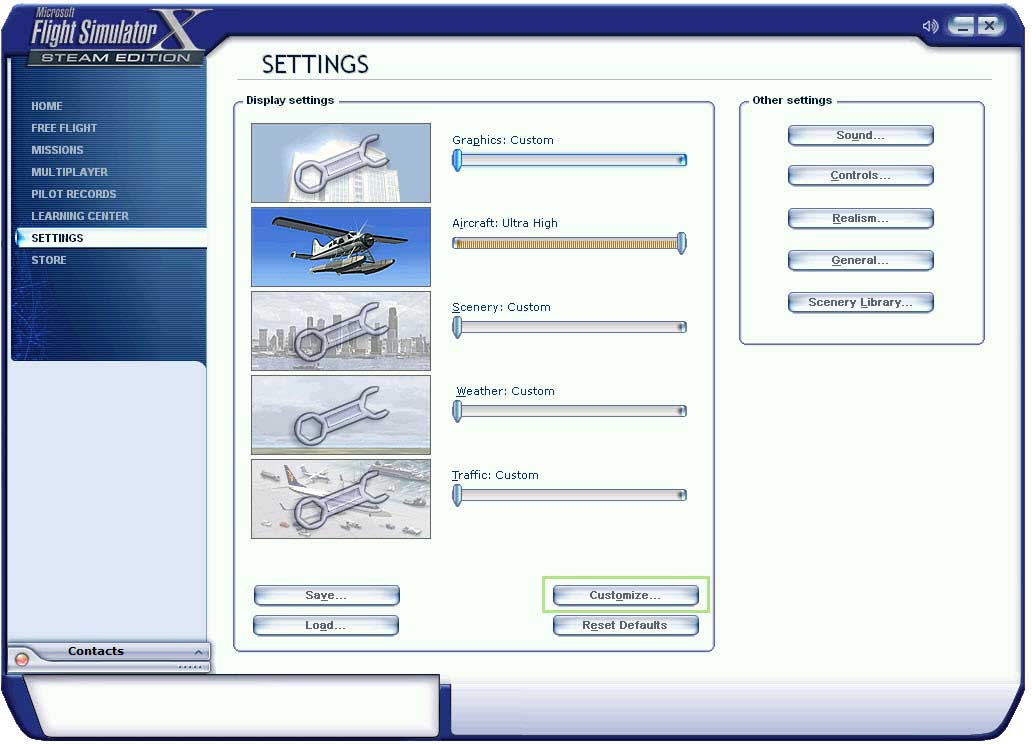 In this first tab, you can make settings like below. You may consider to change the screen resolution from left side regarding to supported values of your monitor. We don't check the "Preview DirectX 10" box since it makes taxi guide arrows at airports as invisible and makes the sea as plain color.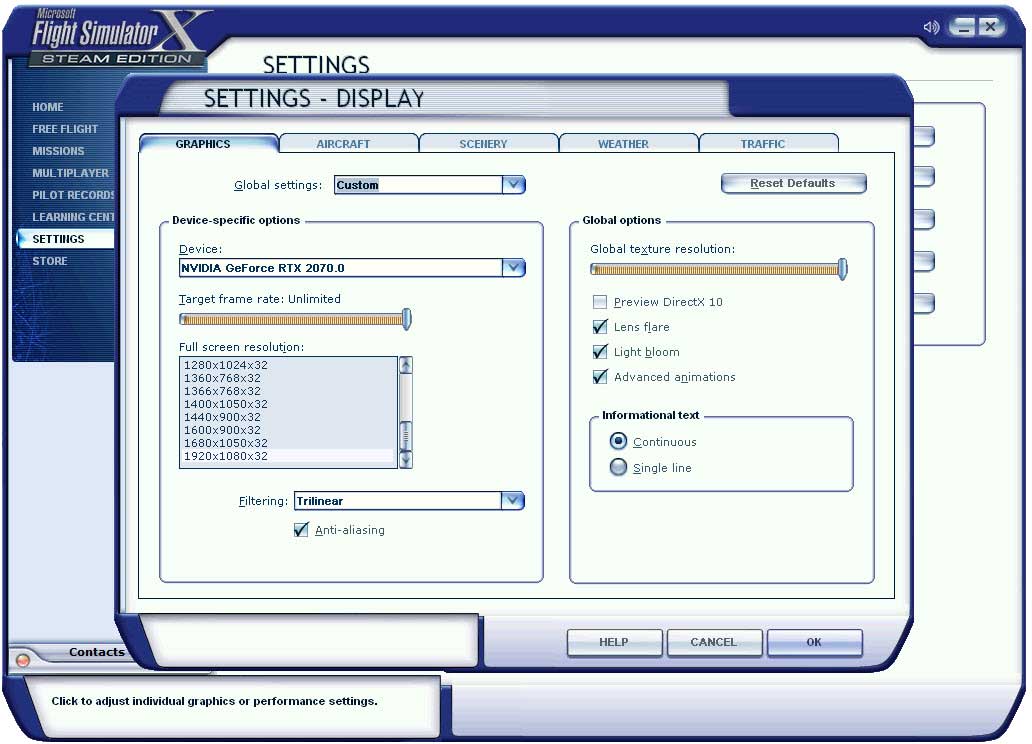 You can make settings for all tabs like below pictures one by one. If you face that fps (frame per second) is decreased -which means graphics are not fast and smooth after these settings, you can downgrade the graphics quality by sliding the bars in the "Scenery" tab into the left. Downgrading graphics quality usually improves the fps.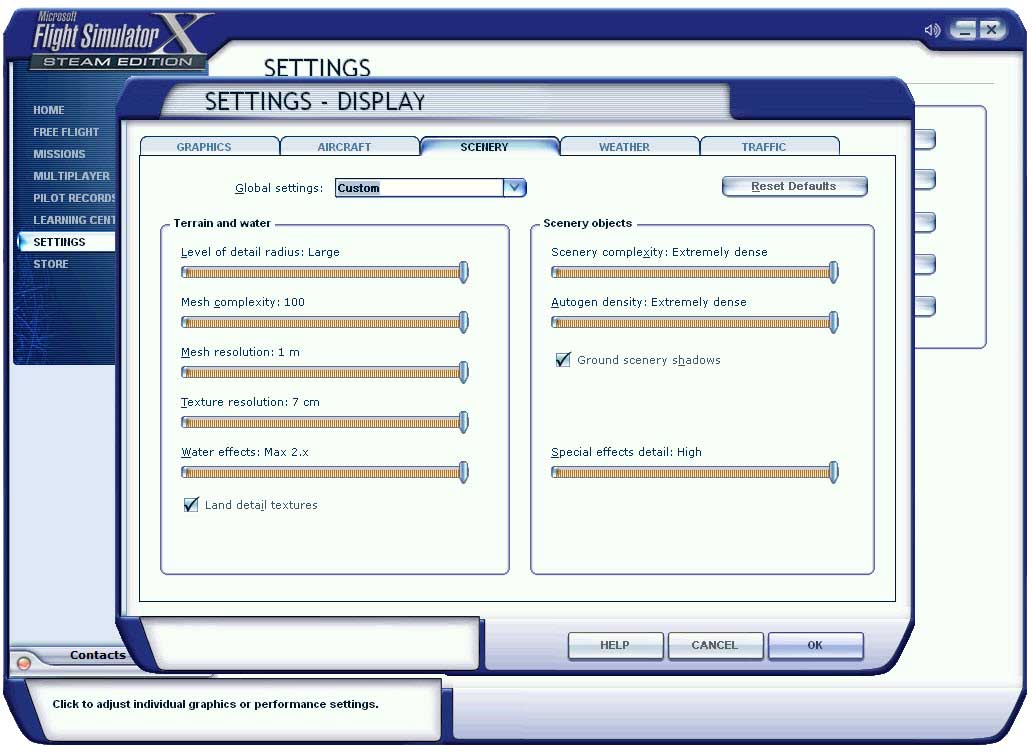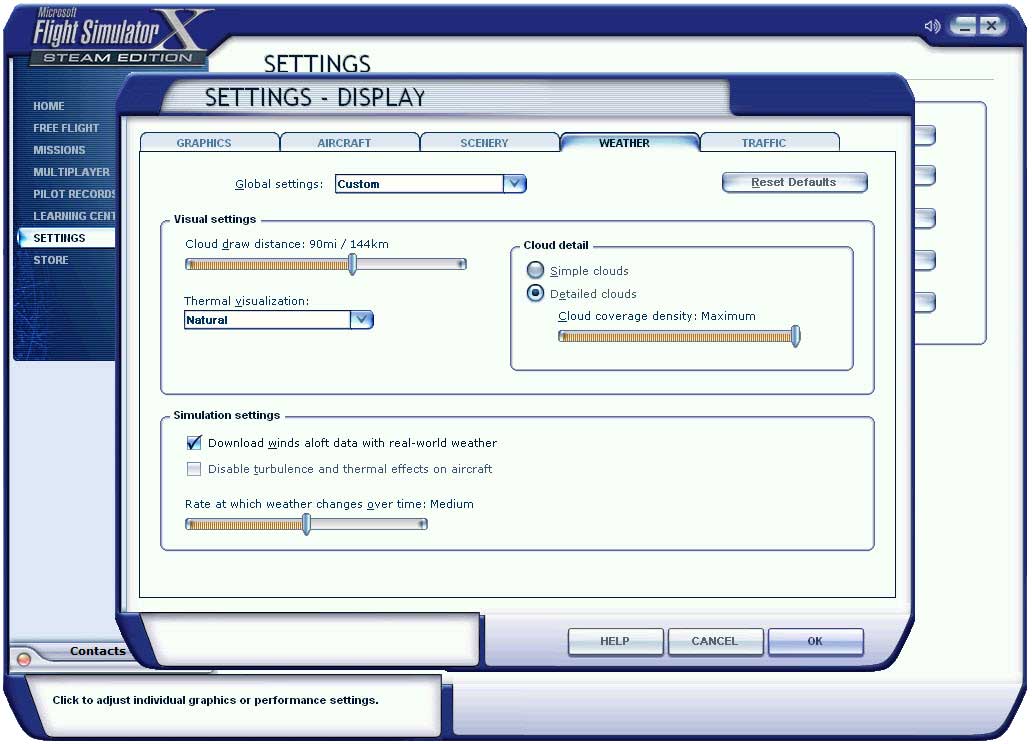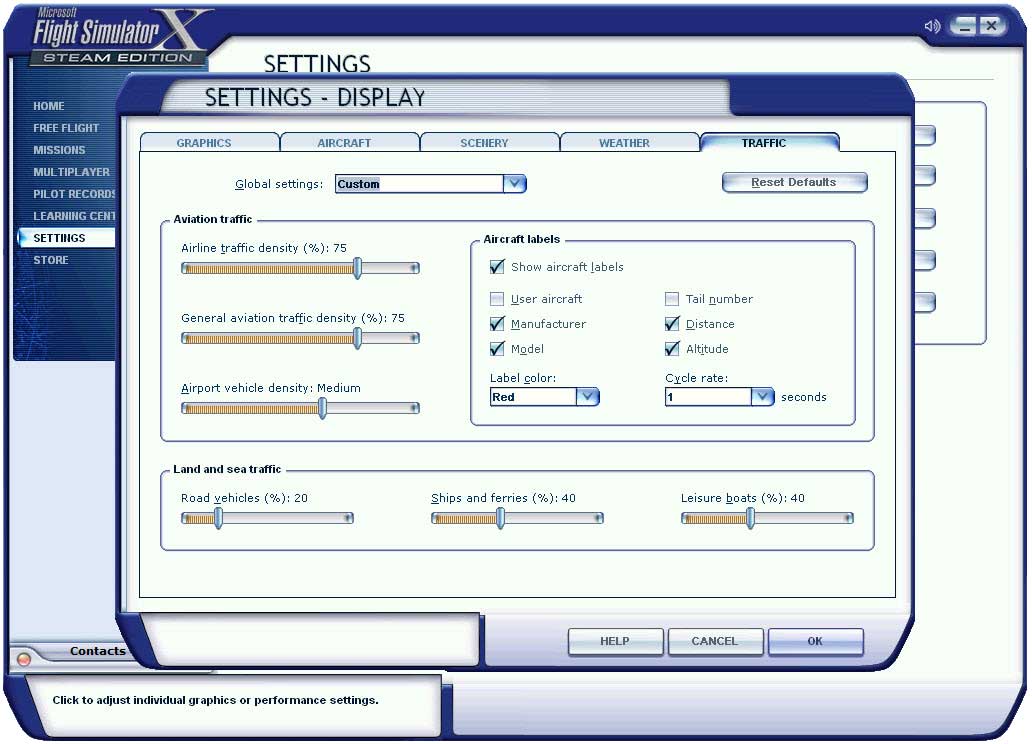 Click "OK" button to return previous screen after you made settings like above pictures. Then, click to "General" button on the right side to open general settings.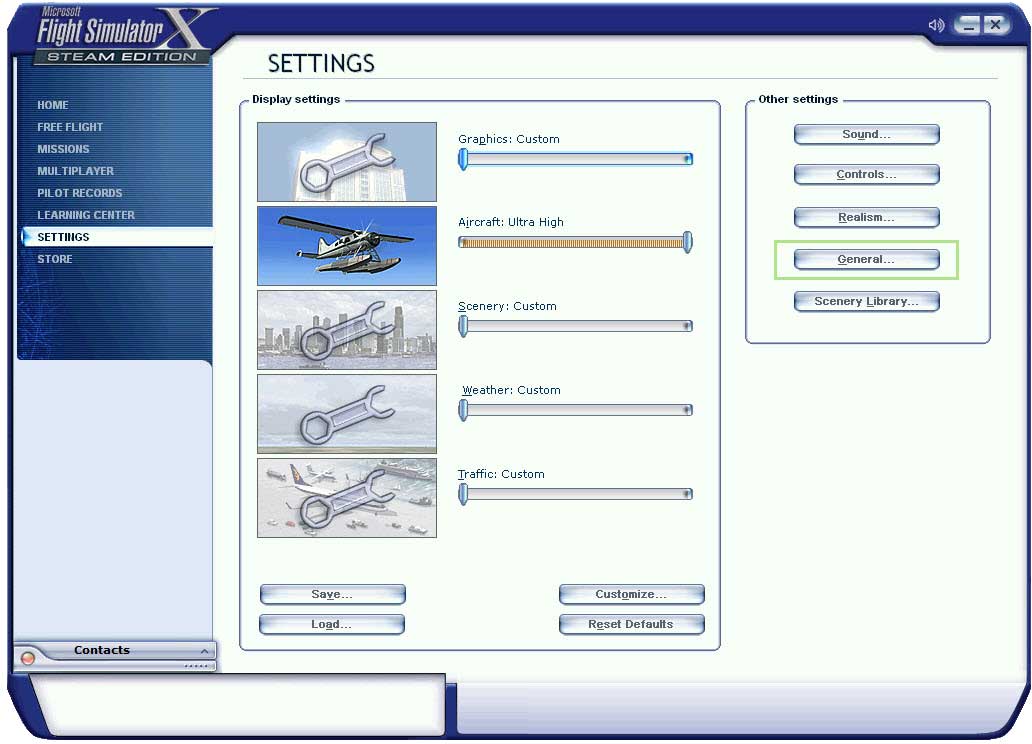 Leave all these settings as default here. You can change the pilot voice which you'll hear at the ATC (Air Traffic Control) window when you communicate to tower if you want. Do not forget to click OK to save.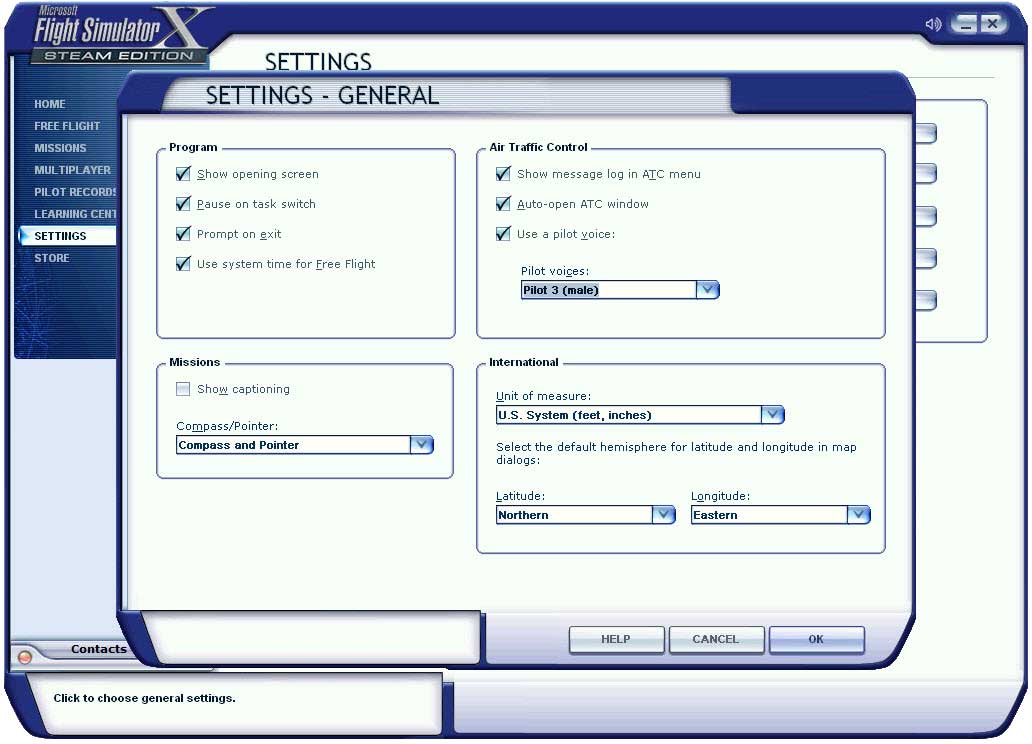 Now click to "Realism" button on the right side to open realism settings.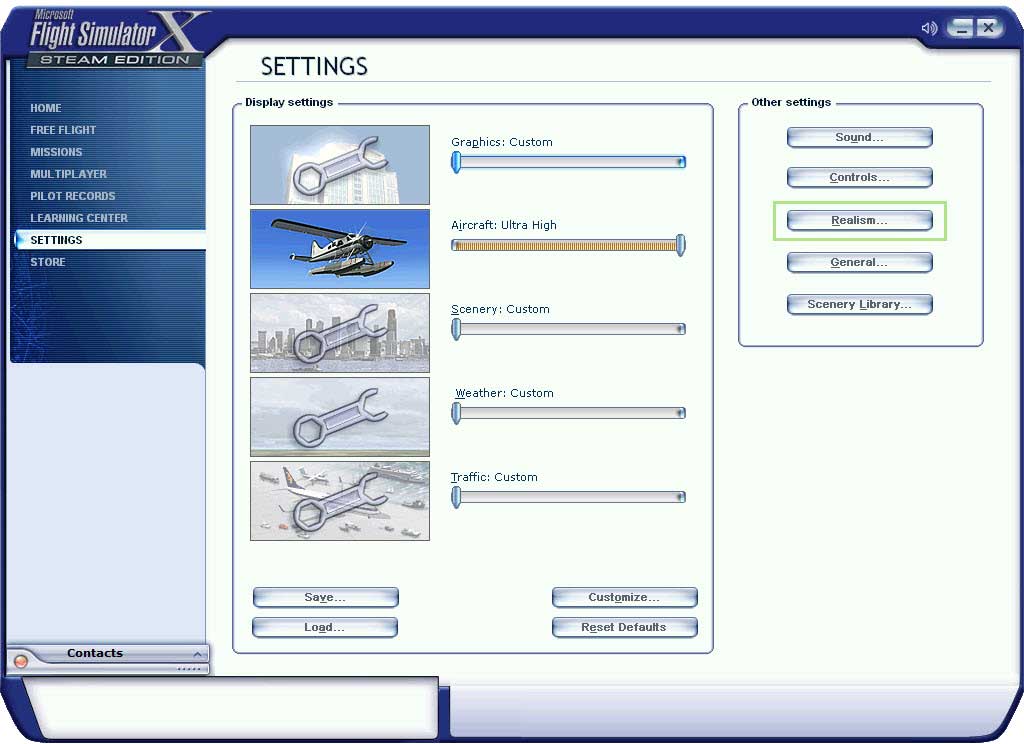 Make the settings like below and click OK to save.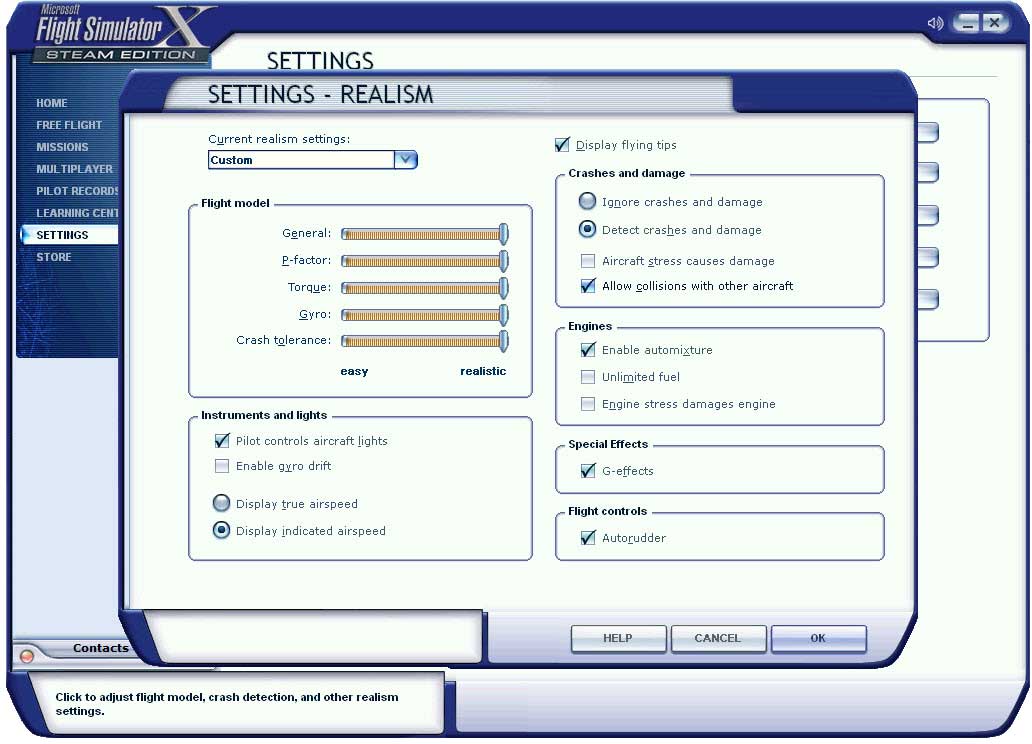 Finally and most importantly, click to "Controls" button on the right side to edit controls.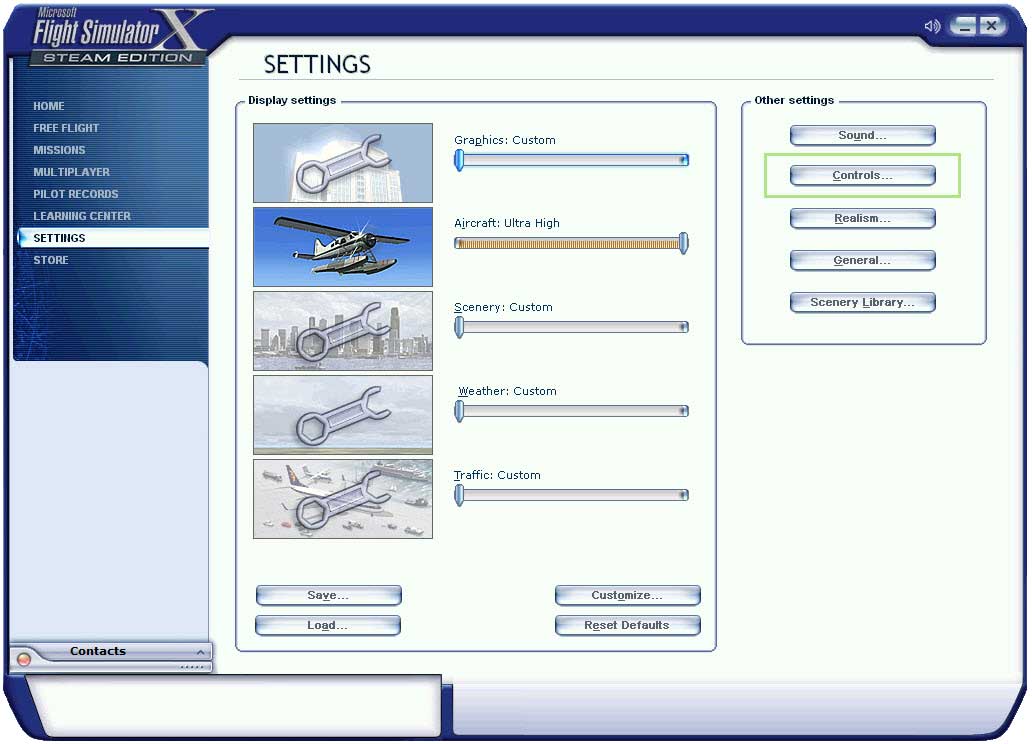 If you don't have any controller like gamepad and you'll play with keyboard and mouse, you just need to learn which key and key combinations do which events here instead of edit. But i strongly recommend that you use a cheap gamepad at least to get more comfortable and enjoyable experience. You'll need to use a few keys on the keyboard even you have a gamepad, but you'll see that using a gamepad will give you more fun. I use Logitech F710 wireless gamepad and very satisfied. You may consider to buy it if you have enough budget. But if not, you can use cheaper wired models of course. All assignments i'm going to show you here are compatible with most gamepad models.
This is the "Calibration" tab in the "Controls" window which was opened after you clicked the "Controls" button. If you've got a gamepad and connected to pc, you might see something like "Xbox 360 Controller" as "Controller Type" like below. Make sure that "Enable Controller(s)" checkbox above is checked to enable your gamepad. In this screen, we'll only edit the settings under the "Buttons / Keys" tab, leave all others as default. Now, click to "Buttons / Keys" tab to view all default keyboard, mouse and gamepad assignments.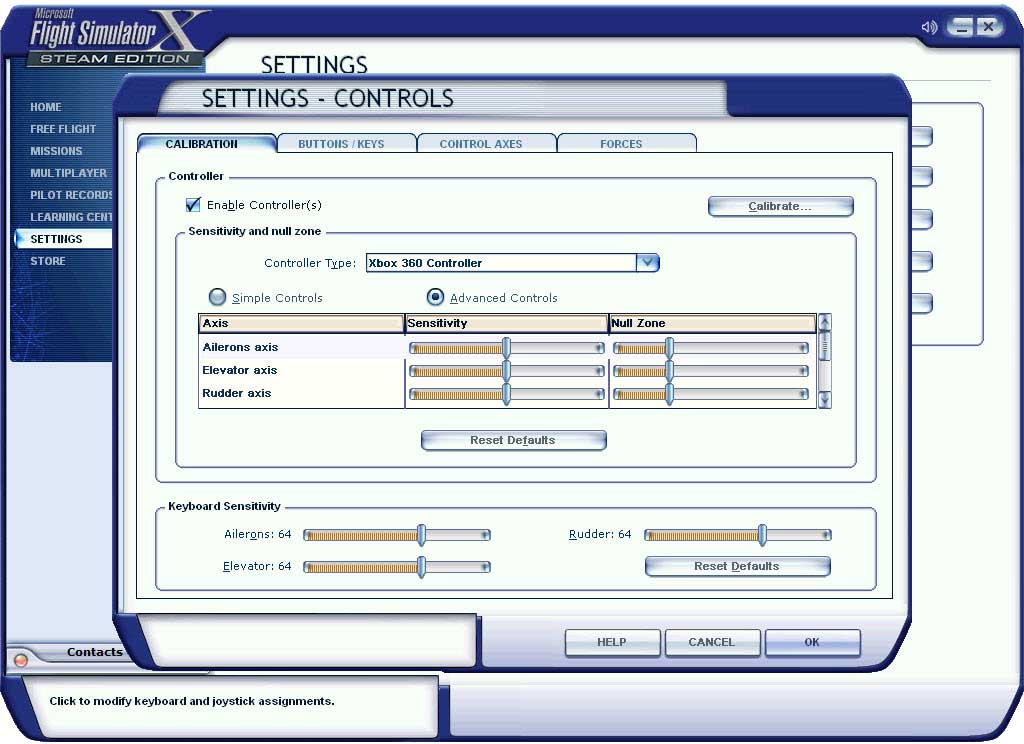 You can see which keys and key combinations assigned to which events under the "Event" column here.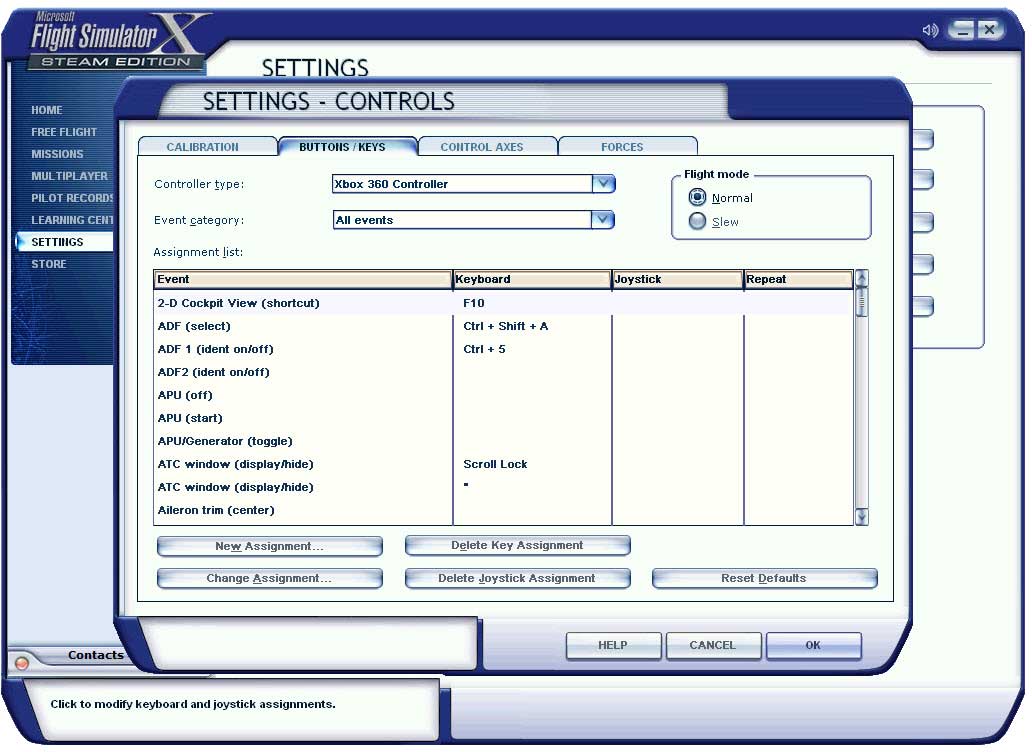 Before we change the gamepad assignments, let's take a look to definitions of some gamepad keys.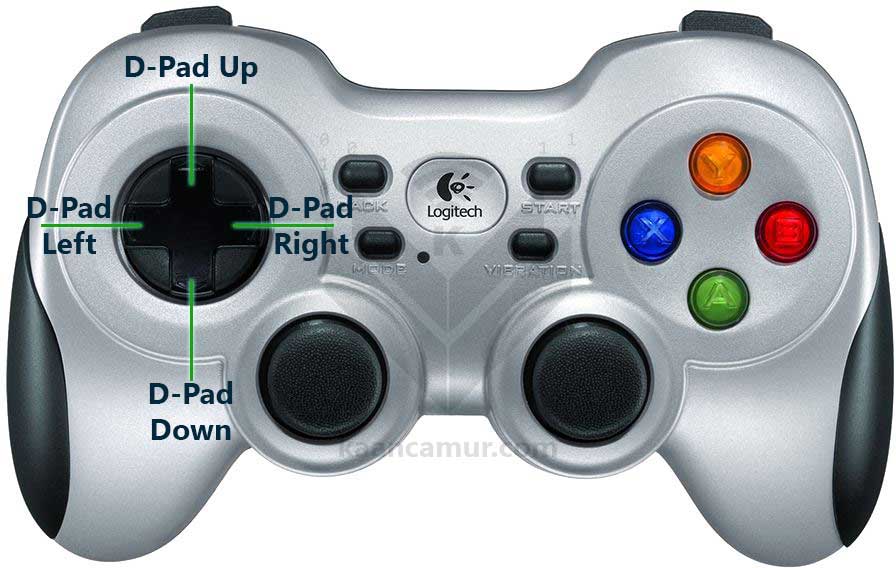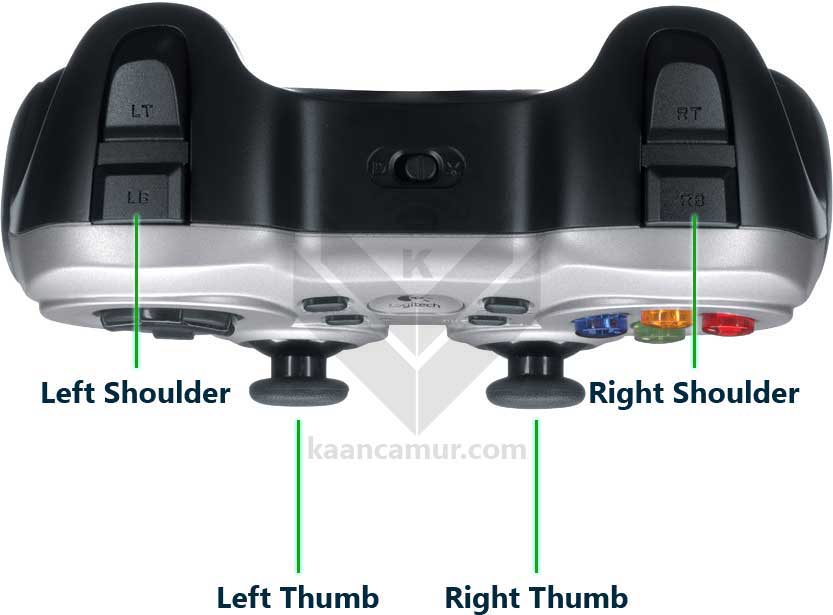 Double click on the "Joystick" column of related event to open new assignment window and press specified button on the gamepad as described at images below, then click OK to save new assignment.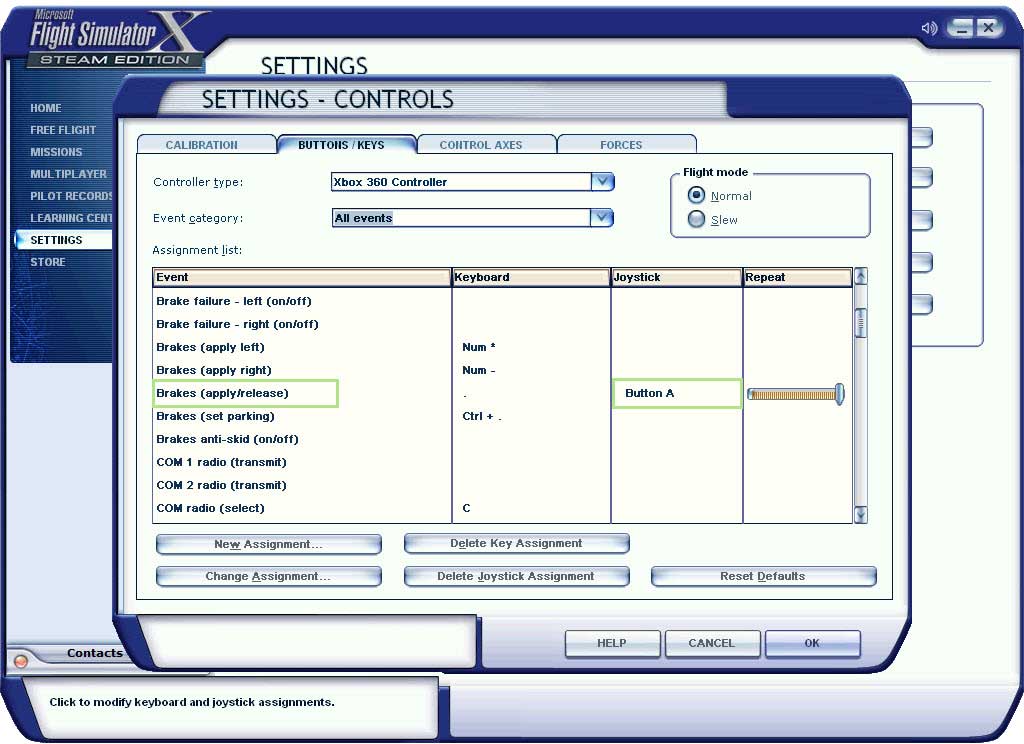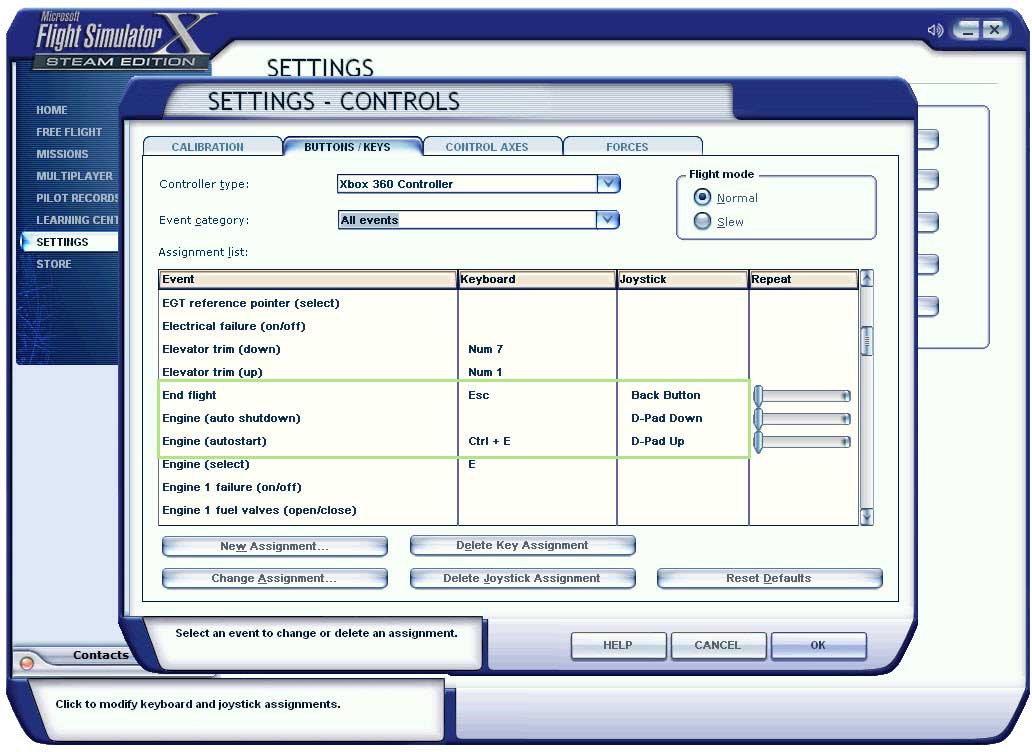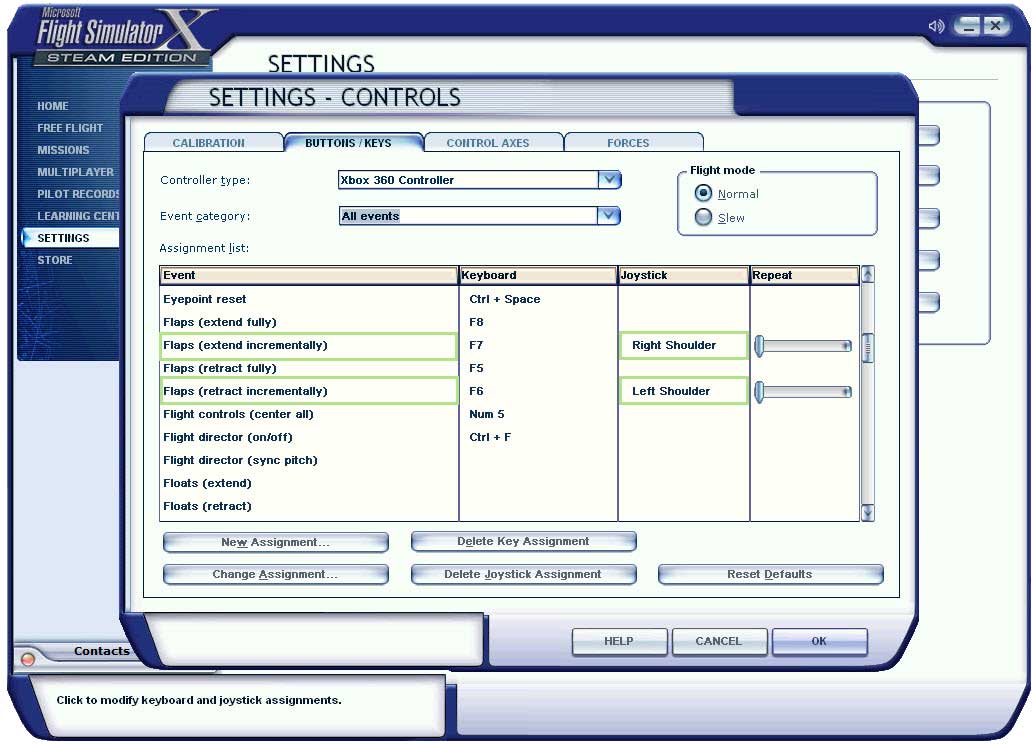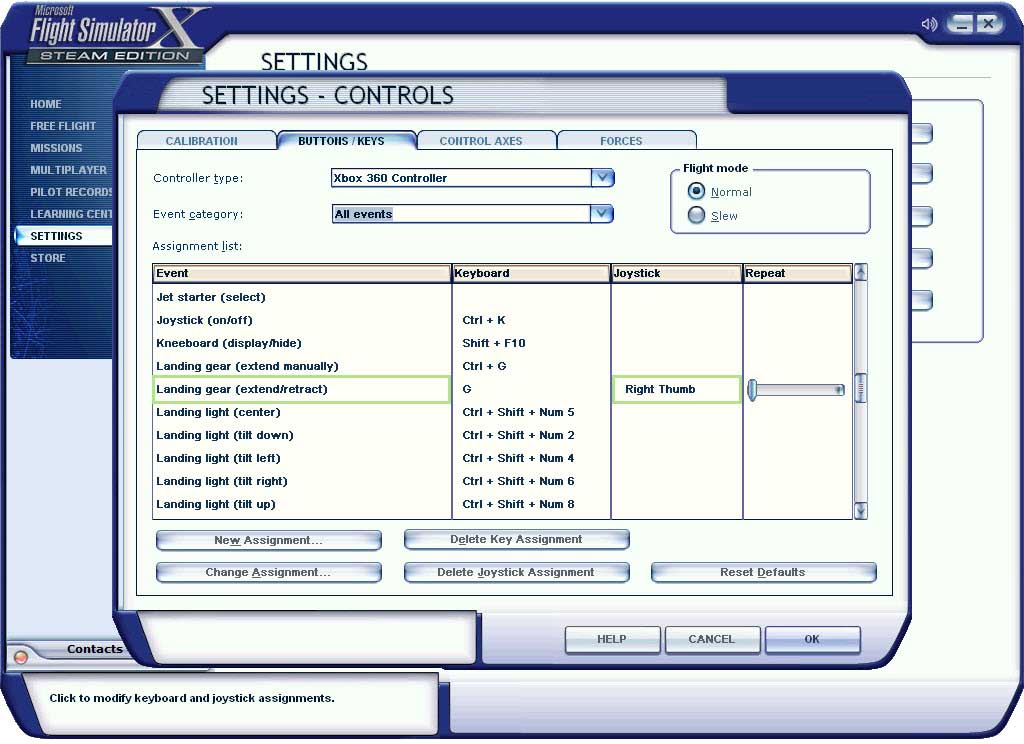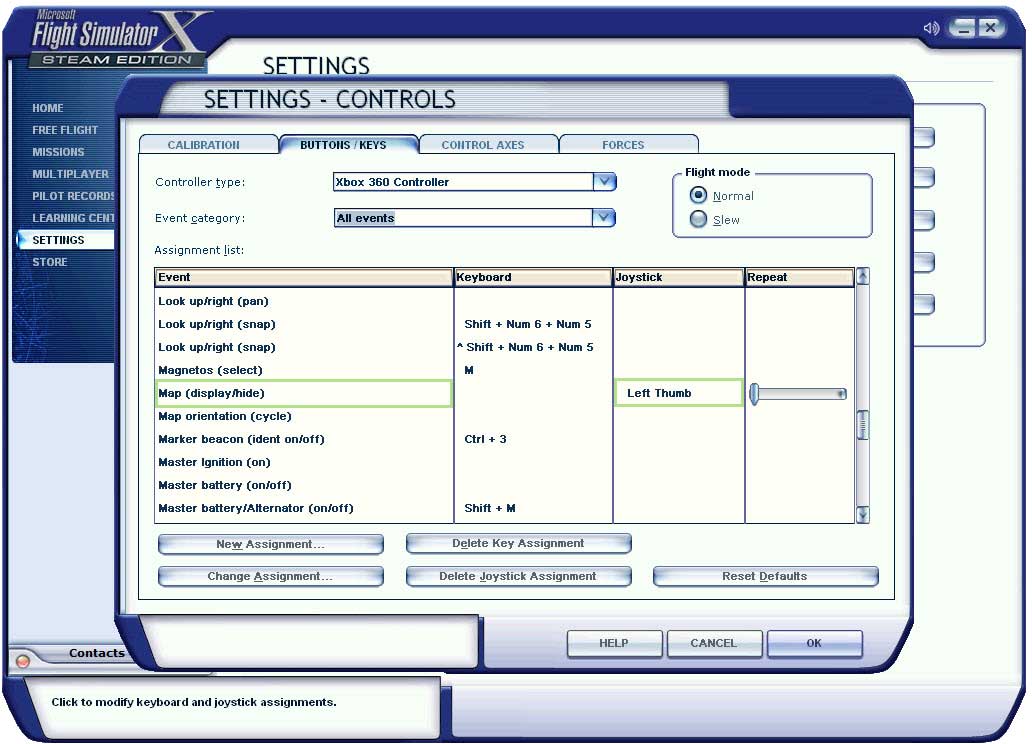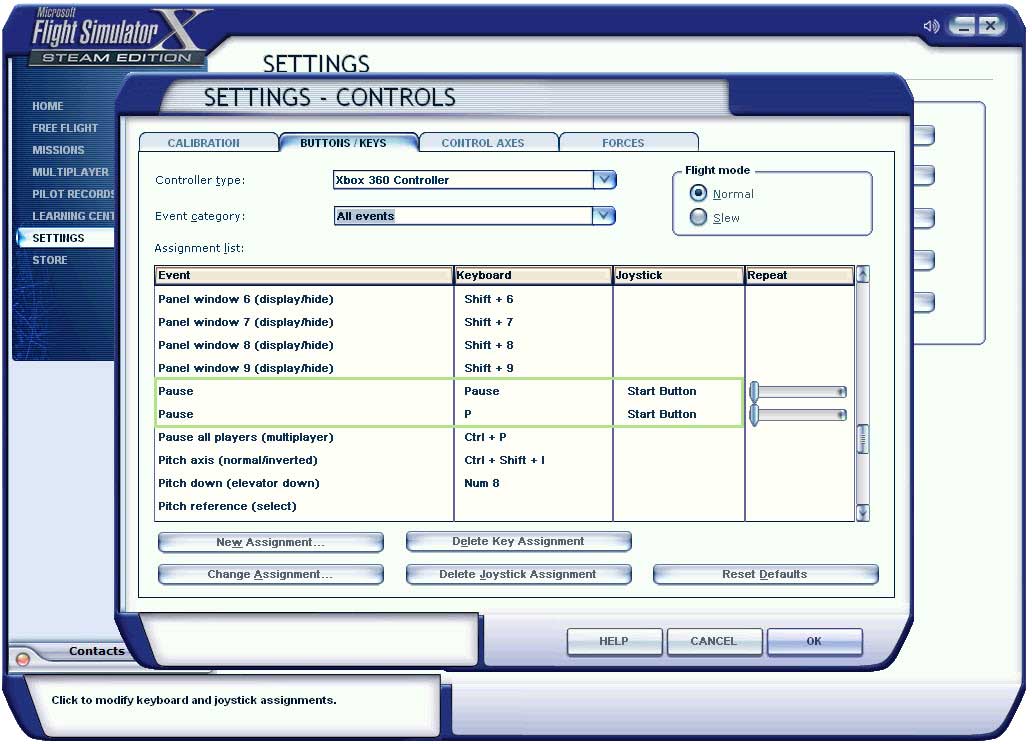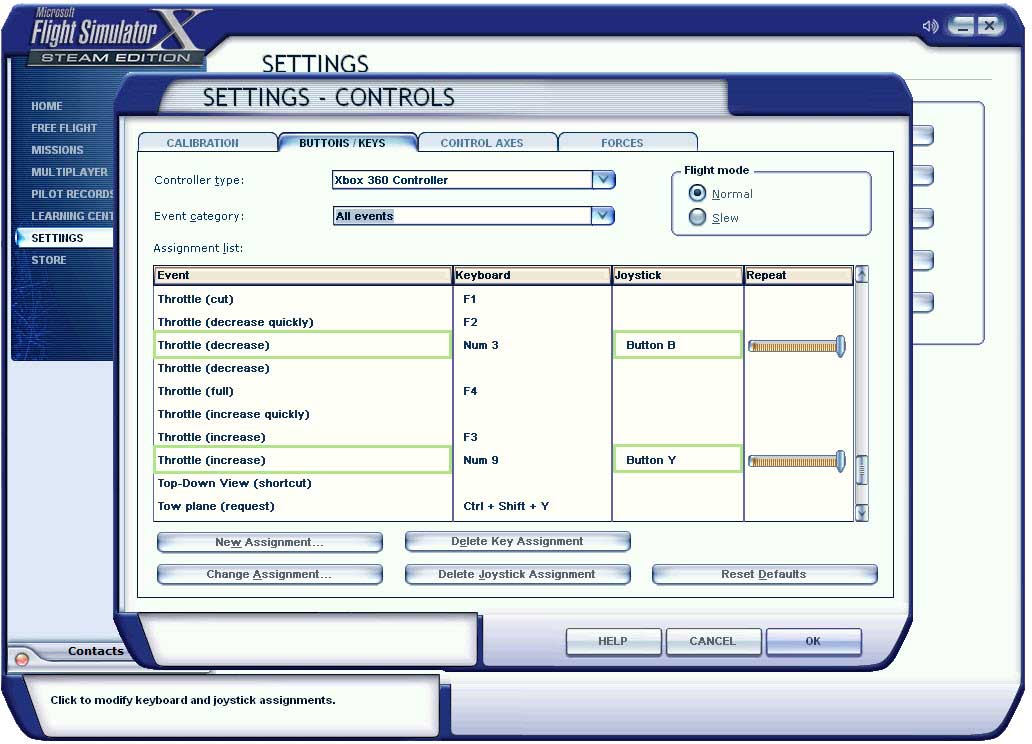 That's all settings done. You can view all assignments we did at below images.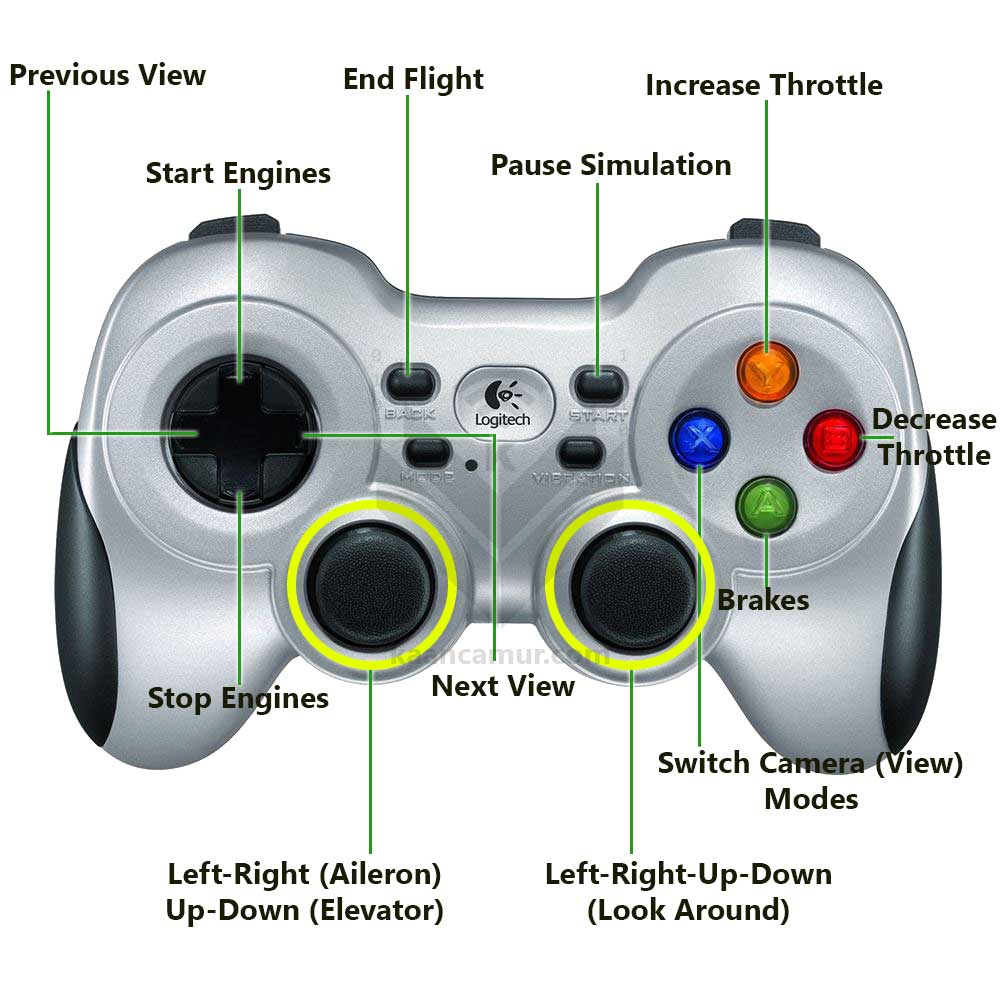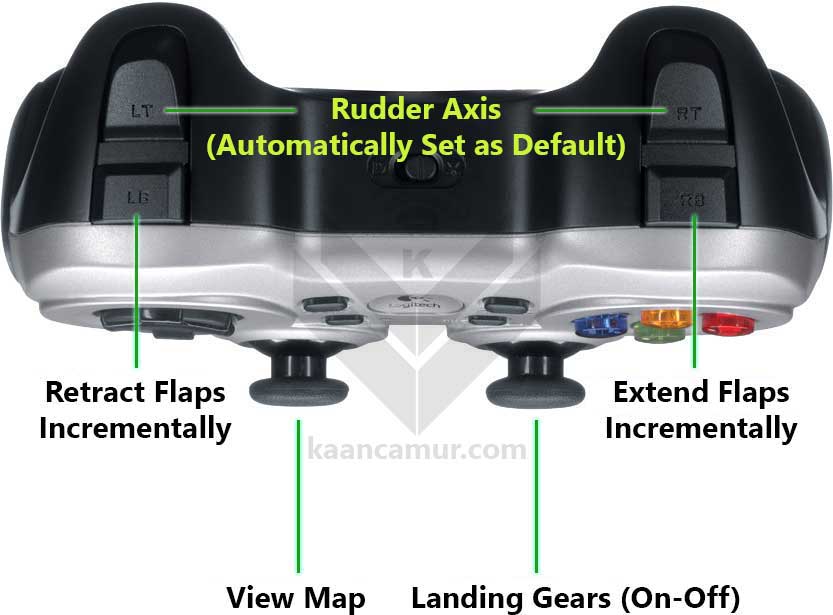 Most used keyboard keys and key combinations with their events at keyboard+gamepad usage are described below.
Z : Autopilot Enable-Disable
Ctrl+Z : Autopilot Altitude Enable-Disable
Ctrl+R : Autopilot Auto Throttle Enable-Disable
Ctrl+H : Autopilot Heading Enable-Disable
Shift+P : Pushback Start-Stop
" : ATC Window Open-Close
Shift+E : Main Doors Open-Close
Shift+E, and 1-2-3-4 or 5 : Other Doors Open-Close
That's it, you're ready to fly. You can begin to fly by clicking "FLY NOW!" button bottom of the screen after selected the aircraft, location, weather and the time in the opened window by clicking "Free Flight" on the left side menu. I'll describe how to fly all aircrafts from helicopters to passenger planes in details at my next articles. Stay in touch.